If you've ever seen the much-loved children's movie Paddington, based on the British books dating back 60 years, you might remember the sad scene when the fictional bear arrives at the London station alone and confused.
When this happened in real life to a dog, his sad story was likened to that of Paddington's and it captured the hearts of thousands.
Kai, a young Sharpei mix dog, was found abandoned at a train station in Scotland, U.K. next to a suitcase full of his belongings.
He was in desperate need of an eye operation and was clearly confused as to his predicament. His viral story sent animal lovers into a frenzy as offers to take him in flooded in from all corners of the globe.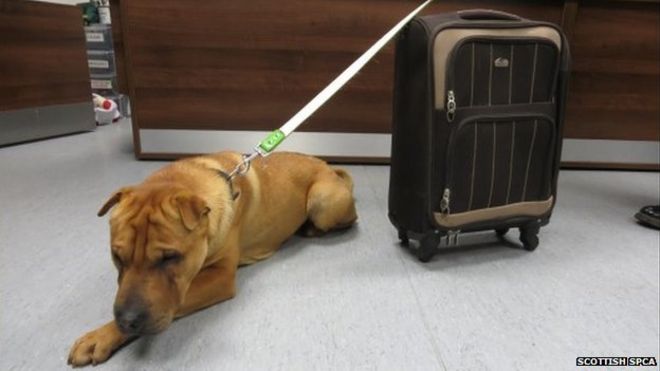 In January 2015, Kai was found alone with a suitcase containing a pillow, a toy, food, and a bowl.
The Scottish SPCA scanned Kai's microchip which led them to a previous owner who claimed he sold Kai back in 2013. No one could identify his new owner.
'Sale gone wrong'
A woman from Aberdeenshire, Scotland, told the Daily Record that the dog's abandonment was the result of an attempted sale gone wrong.
The woman said she responded to an online ad and agreed to buy the dog for about $600 but changed her mind once she arrived at the train station to meet the seller, according to a CNN article.
She said the owner left before she could speak with him and she had to leave abruptly fearing she'd miss the last train. She was also concerned about her daughter who suffers from asthma.
Abandoning animals is a federal offense under Scotland's Animal Health and Protection Act of 2006. Anyone found guilty is forbidden from owning other animals.
Thankfully, there is a happy ending to Kai's story. Among the hundreds of people who came forward to adopt Kai, one lucky dog lover was chosen.
Forever home
Ian Russell, 52, was chosen by the Scottish SPCA, as the most suitable candidate.
Watch how happy Kai is to meet his new owner in the video below.
So glad Kai had a happy ending, no dog should be passed around and abandoned like that.
Please share his uplifting story with all the animal lovers you know.
Source: https://www.pawbuzz.com/dog-found-cruelly-abandoned-at-train-station-next-to-a-suitcase-of-belongings/